Author: Imogen Matthews
Narrator: Liam Gerrard
Length: 9 hours and 48 minutes
Publisher: I M Associates
Released: May 31, 2018
Genre: Historical Fiction
Wartime Holland.

Whom can you trust?

Deep in the Veluwe woods lies Berkenhout, a purpose-built village of huts sheltering dozens of
persecuted people. But the Germans can find no proof of its existence. The whole community
pulls together to help the Berkenhout inhabitants adjust to a difficult new life and, above all, stay
safe.

Sofie, a Jewish Dutch girl, struggles to adapt to living in Berkenhout, away from her family and
friends. As weeks turn to months, she's worried they'll abandon her altogether. Young tearaway
Jan likes to help, but he also enjoys roaming the woods looking for adventure and fallen pilots.

His dream comes true, until he is found out. Henk is in charge of building the underground huts
and organizing provisions to Berkenhout, but his contact with the Germans arouses suspicions.

Whom can you trust? All it takes is one small fatal slip to change the course of all their lives forever.



Imogen Matthews is English and lives in the beautiful University town of Oxford.
Before she wrote The Hidden Village, she published two romantic fiction e-novels under her pen name, Alex Johnson.
The Hidden Village is published by Amsterdam
Publishers, based in the Netherlands.
Imogen has strong connections with the Netherlands.
Born in Rijswijk to a Dutch mother and English father, the family moved to England when Imogen was very young.
Every year since 1990, Imogen has been on family
holidays to Nunspeet on the edge of the Veluwe woods.
It was here that she discovered the story of the hidden village, and together with her mother's vivid stories of life in WW2 Holland, she was inspired to
write her next novel.


Liam is an Irish born voice-artist with over 10 years experience
working in every field of the voice industry. His recent varied audiobook work includes the
'Deception of a Highlander' series of 3 books, Little Caesar for Audible, A Christmas Carol, The
Tempest and Aviation Training. His regular corporate voice-clients include: Shell, BP, HMRC,
HSBC, Hilton, Mondelez, Cadburys, Green & Blacks and many more. He has performed
many radio-plays, narrations, animations and documentaries; from the Keith Moon biography to
most Shakespeare radio-plays.
He is also an Associate Lecturer in Broadcast Voice
and 'Acting for Radio' at Sheffield Hallam University.
He is a communication skills specialist and examiner
for the Royal College of Psychiatry, Royal College of Surgeons, Royal Scottish College of
Surgery and as such is highly fluent in complicated medical reads with Latin
pronunciations.
He is also a highly acclaimed stage and screen actor.
He studied at Lancaster University and then as a classically trained actor at Mountview. He
spent his formative years in the Middle-East which has given him an understanding of different
accents and cultures and is able to perform many accents to a native standard; including most
UK regions, most Irish regions, most of Europe, Australia and North America, (hillbilly, New
York, mid-Atlantic, San Francisco, Chicago, etc.) and is also able to create wildly inventive
characters. He has lent his voice to some of the zaniest cartoons and animations written, from
grumpy old wizards, to heroes, to South-American monkeys and even a sea-horse with a
Scottish accent!
He is currently the youngest actor to play the lead role
of Prospero in Shakespeare's 'The Tempest' in London's West–End. His recent production of
Brecht's Caucasian Chalk Circle at the Royal Lyceum Edinburgh won 4 prestigious Critics Choice Awards. He has worked for the most renowned theatre companies; from The Royal
Exchange Theatre (2 Manchester theatre award nominations) to most regional theatres
throughout the UK, including Alan Aykbourn's SJT, New Vic, Oldham Coliseum, Donmar,
Dukes, Nottingham Playhouse, Theatre by the Lake and many more. He also played Jerry in
'Hollyoaks' and appeared alongside Catherine Zeta-Jones in the Hollywood feature film 'Death
Defying Acts'. His wide-ranging experience has also seen him perform Opera in 'Rigoletto'.
In his spare time Liam is also a musician, playing violin,
drums, piano and percussion, and spends time with Peg, his Springer Spaniel, out in the Peak
District whenever he can get away from the studio!


Set in Holland during Hitler's reign of terror, this book is unlike any I have read before. I expected it to be similar to "The Diary of Anne Frank" in that the entire tale would take place indoors, however, I was thankfully wrong. Don't misunderstand me, I loved reading Anne Frank's diary, it's just that since then I have read numerous accounts of people in similar situations and I am ready for something different, something I have never heard about, or something completely new.
I had never heard of anything so daring as trying to hide an entire village full of people in a forest. It shocked me that THE HIDDEN VILLAGE was based on a true story.
The author has done a great job of crafting a tale that centers on the people's lives, rather than on the war itself. Any violence portrayed in this story is there with a purpose – that of moving the story forward.
I was greatly impressed by the narrator and his ability to create and maintain distinct voices for such a large number of characters. His pacing was perfect and he used inflection to create mood. I rate his performance as 5 out of 5 Stars.
I highly recommend this story to anyone who loves not only historical fiction, but a great drama. I think that buying this book in audio book format is the best way to experience this tale.
I rate THE HIDDEN VILLAGE audio book as 4.5 out of 5 Stars. ⭐⭐⭐⭐
I received this audiobook as part of my participation in a
blog tour with Audiobookworm Promotions. The tour is being sponsored by Essential
Audiobooks. The gifting of this audiobook did not affect my opinion of it.

***************************
Was a possible audiobook recording something
you were conscious of while writing?

Absolutely not! I didn't even know it would be possible. In
some ways I'm pleased I wasn't thinking about how The Hidden Village would sound as it might
have inhibited my writing. I had a clear idea of how the characters sounded in my head and they
shaped my writing. However, having turned The Hidden Village into an audiobook, I'm more mindful of how the words will be spoken as I'm writing my next novel (also set in Holland in
WW2).
How did you select your narrator?

I was introduced to my narrator, Liam Gerrard, through
Catherine O'Brien, CEO of Essential Audiobooks. After reading and becoming very enthusiastic
about my novel, she suggested that Liam would be the perfect narrator for the job as he had
experience in narrating World War 2 novels, has a fantastic CV as an actor and voiceover artist
and has his own recording studio. It gave me the confidence that he would do an excellent job. I
asked him to do me an audition of the first chapter which we then discussed in detail, so that he
could understand what I was looking for in terms of characterisation, pace and style.
How closely did you work with your narrator before
and during the recording process?

Most of my involvement took place at the beginning of the
project. Once he began recording for real, he didn't get in touch with me at all until he'd
completed the job. I was slightly nervous that I might need to ask him to rerecord sections, but it
wasn't necessary. Listening to his narration the first time through, I was amazed at how he'd
interpreted my writing and really brought the story to life.
Did you give them any pronunciation tips or special
insight into the characters?

I made some voice files for Liam which describe the
characters as well as the pronunciation of Dutch and German words and phrases, names and
place names. We went through these meticulously and Liam even noticed a couple I'd missed!
His attention to detail was extraordinary. He had really read and understood the story which
comes out strongly in his narration.
Were there any real life inspirations behind your
writing?

The Hidden Village is based on a real place in Holland
which I discovered on one of my many cycling holidays in the area. Deep in the Veluwe woods
is a memorial to the local people who had risked their lives to help Jews hide from the Germans
by building a village of underground huts. Not only that, they brought in food, clothing,
medicines and all other necessities all the time that the German soldiers were patrolling the
woods looking for Jews in hiding. It was an extraordinary feat and the Dutch community almost
got away with it. I came across a Dutch book with interviews of people who had lived in the area
at the time, including those who had helped with the building of the village and others who'd
gone to live there. It is the determination and courage of these people in the face of evil that
interested me most.
My mother was Dutch and I grew up hearing about her
experiences and stories of survival during the Hunger Winter in 1944-45. Food ran out, people
starved to death but my mother and family survived because she cycled into the bulbfields and
dug up tulip bulbs which they boiled as their only source of nutrition. Her stories were both
horrifying and uplifting – she was a young woman at the time and often said that she'd found the
war to be an exciting time. This is what made me want to have young people as my main
character.
How do you manage to avoid burn-out? What do
you do to maintain your enthusiasm for writing?

I so wanted to get this story down as it's about my own
personal history and the place I love to visit most. I visit Nunspeet in Holland with my husband
and other family members at least once a year and when I'm back in the woods the words really
flow again.
Are you an audiobook listener? What about the
audiobook format appeals to you?

I have to confess I'd never listened to an audiobook before
my own! (I know, shame on me!). Now, I've been through the process, I appreciate just how
brilliant an audiobook can be. I've started listening in the car, grabbing a chapter or two on short
journeys and more on longer ones and have a feeling that I'm getting my reading in without having to pick up a book. I still love reading books as well and think the two are very
complementary.

Sep. 6th:
Dab of Darkness
Audiobook Reviews
Sep. 7th:
T's Stuff
The Book Junkie Reads . . .
Sep. 8th:
Inspiration
Clothesline
Sep. 9th:
Jazzy
Book Reviews
Sep. 10th:
What Is That
Book About
Sep. 11th:
Lomeraniel
Sep. 12th:
Working
Mommy Journal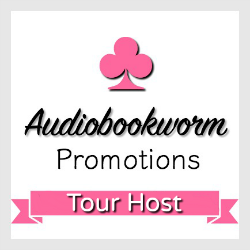 ➜Sign up as a host <_ theaudiobookworm.us13.list-manage1.com="theaudiobookworm.us13.list-manage1.com" subscribeu="7b9c20bd11606d7d9226712e2&id=fc8d9118ee"">here